LAST SHOW: Aamir Khan is the perfect blend of mischievous and mysterious in new Thugs of Hindostan motion poster in cinema from on November 8
Aamir Khan plays Firangi in much-awaited period drama Thugs of Hindostan. The Vijay Krishna Acharya directorial, also starring Amitabh Bachchan, Katrina Kaif, Fatima Sana Shaikh and Lloyd Owen, will hit screens on November 8.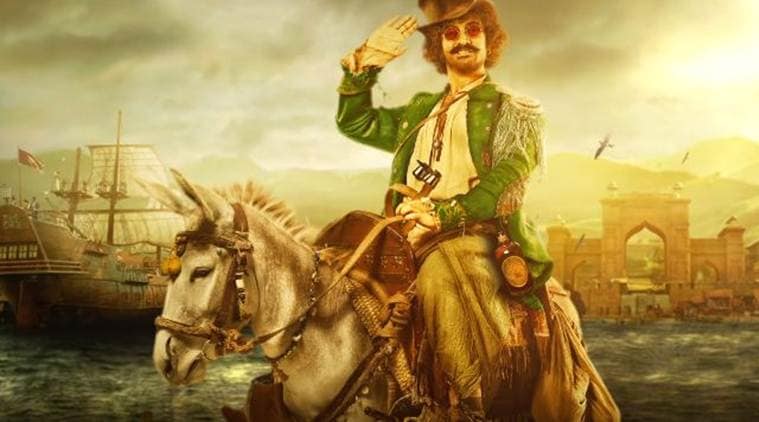 Aamir Khan's look as the ultimate thug of Hindostan is out. The motion poster featuring the Bollywood superstar was revealed by Yash Raj Films on Monday morning. In the poster, we see a splendid ship in the background and then the focus is shifted to what appears to be a bottle of alcohol that Aamir's character Firangi is carrying on his person. Finally, towards the last few seconds of the video, we catch a glimpse of Firangi himself.
Aamir is seated on a majestic horse and is donning an outlandish attire perfectly suited for a pirate. In the poster reveal, Aamir's character seems a bit woozy as he positions himself to give an unsteady salute to his audience. Just like the background of the poster, Firangi seems cheery and colourful, to the extent that he is slightly reminiscent of Johnny Depp's character in The Pirates of the Carribean franchise, Jack Sparrow.
Meet the characters of Thugs of Hindostan: Amitabh Bachchan as Khudabaksh| Fatima Sana Shaikh as Zafira | Lloyd Owen as John Clive | Katrina Kaif as Suraiyaa
So far, five motion posters of Thugs of Hindostan have been revealed featuring Amitabh Bachchan, Katrina Kaif, Fatima Sana Shaikh, Lloyd Owen and Aamir Khan. The epic action-adventure film has been directed by Vijay Krishna Acharya and will hit screens on November 8, 2018.